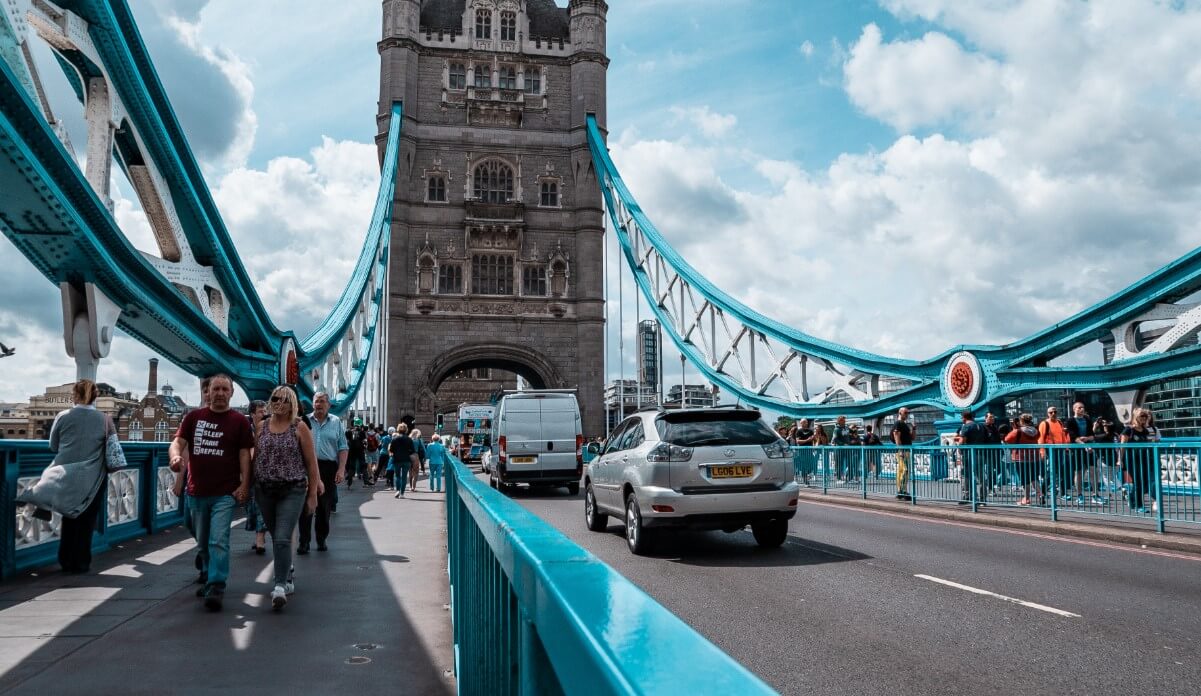 London in July: Tips for Enjoying Summer Weather in London
---
A visit to London in July will uncover for you the best of London's weather, festivities and atmosphere. It is one of the few times in the year that eating outdoors in warm weather is possible.
On top of that, the city is buzzing with tourists, day trippers, and locals who all spill out onto the streets to enjoy some downtime. London in July is fabulous. Read on to find out more.
Thinking About Visiting London in July – Should You Do It?
If you want the best chance of good weather, the most outdoor activities and a lively buzz then travelling to London in July may be for you. Having said that, if you hate crowds, want to use the underground without someone's armpit in your face and a decent table for dinner then perhaps consider one of the less touristy months such as May or October.
Bear in mind that London prices for hotels and guest houses may be higher than during months such as February or November. But then again, you are trading off for better weather. If you are having trouble deciding which month to visit London in then check out our London by month guides here.
What's the Weather in London in July – What To Expect?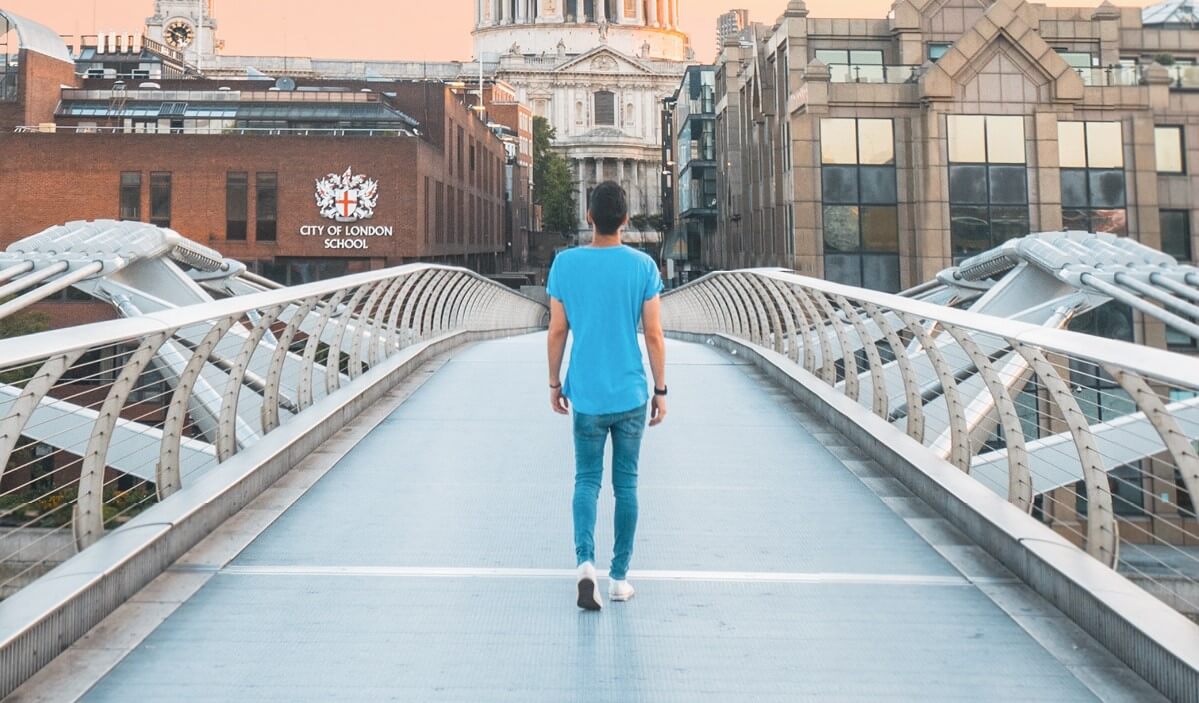 A visit to London in July will give you the best chance of getting good weather. Read on to find out just what to expect from the weather in London in early July and later in the month.
Weather Forecast for London in July
Early in the month, you can expect temperatures in the low 20 degrees centigrade. This means that the July weather in London in fahrenheit will be in the 70s. Towards the end of the month the temperature will begin to climb slightly. The weather in London in late July can therefore be quite pleasant.
On some rare occasions, temperatures can approach 30 degrees celsius. That makes for a pretty hot metro journey! If you don't like the heat then think of visiting London in the spring instead when the temperatures will be lower.
Average London Weather in July in London
With the average temperature in London during July being in the low to mid twenties (celsius) it is pretty pleasant in London in July if you are spending time outdoors. The average night time temperature will likely be around 12 degrees Fahrenheit. You can expect around 16 hours of daylight too throughout the month.
That is more than enough time to check out the city. The daylight levels will drop to around 15 hours towards the end of the month. On rainfall, you can expect dry days on 18 days on average, with around 6 days experiencing what you could call "significant" rainfall. Best bring a travel umbrella just in case.
London Weather in July – What to Wear to Ensure a Comfortable Vacation
London has a LOT to see, and it will mean a LOT of walking. Make sure you are wearing comfortable shoes – leave the flip flops for the beach holiday (or the spa in your hotel!).
You will need t-shirts for during the day but jumpers for the evening, and do not forget to bring a light raincoat as well as a fold up umbrella in case you get stuck in a shower. The London summer weather can disappear quickly!
Things You Need to Pack for a Trip to London in July
raincoat – one of those fold up ones will do- it will help you for any unforeseen London summer weather
umbrella – a fold up one of those too!
shirts and jumpers that can be layered up or down depending on the weather
suncream
sunglasses
dressy clothes – if you are going someplace fancy!
Best Things You Can Do in London in July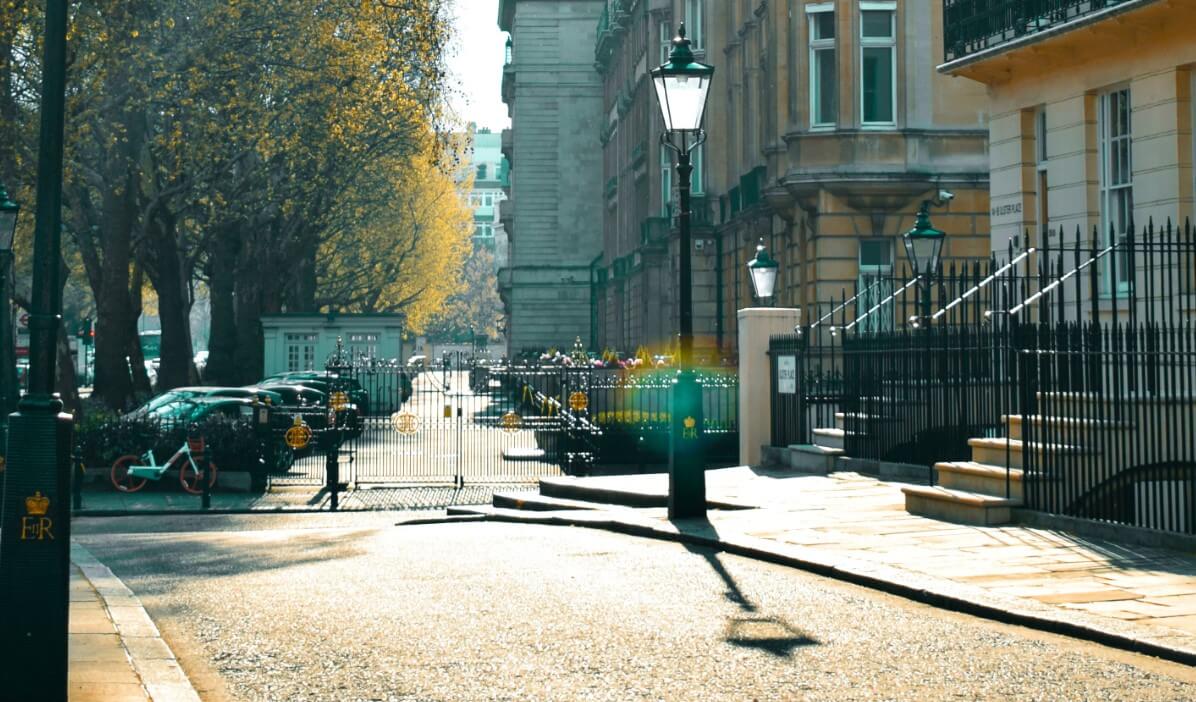 July is an outdoor month in London! On top of grabbing a drink in a beer garden or having a picnic in one of the many parks, there is much more to see.
Summer Events in London in July
Buckingham palace tours – only available in July and August – are a great thing to tick off the things to do in London list
Take in a pop up outdoor cinema instead of going to a West End show
The Royal Horticultural Society annual flower show is the biggest on the planet.
Soccer Games in London in July
Unfortunately the football season usually doesn't begin until August. You may be lucky enough to find a pre-season friendly, but the majority of the big teams are likely playing friendly matches away.
If you are travelling with a football mad kid (or adult) don't worry, there is still something you can do. The stadium tours will be open – Wembley or Chelsea will usually be your best bet, or perhaps this one of the Emirates Stadium may tickle your fancy.
And if soccer is not your thing then tennis fans may wish to do a Wimbledon tour on the courts of huge tennis stars.
Festivals in London in July
July is a great month for festivals in London. A mix of locals and visitors alike make for a great vibe. The BBC proms for example are a standard favourite and well known. But there will also be plenty of spontaneous and annual music festivals popping up everywhere.
Look for the Lights of Meltown,the Camden Rocks Festival or Eastern Electrics. Consult local guides when you get there for pop up events too in local parks…
How to Make the Most of Your Trip to London Events and Attractions in July?
You may want to consider a city pass or city card in order to maximise your trip. It is a great way to manage your budget, plan your attractions and make the most of your time. The London City Card and a London Pass with transport options are ones to consider. You can check out the full details on some of our recommended city passes here.
Most Fun Activities for Kids When Visiting London in July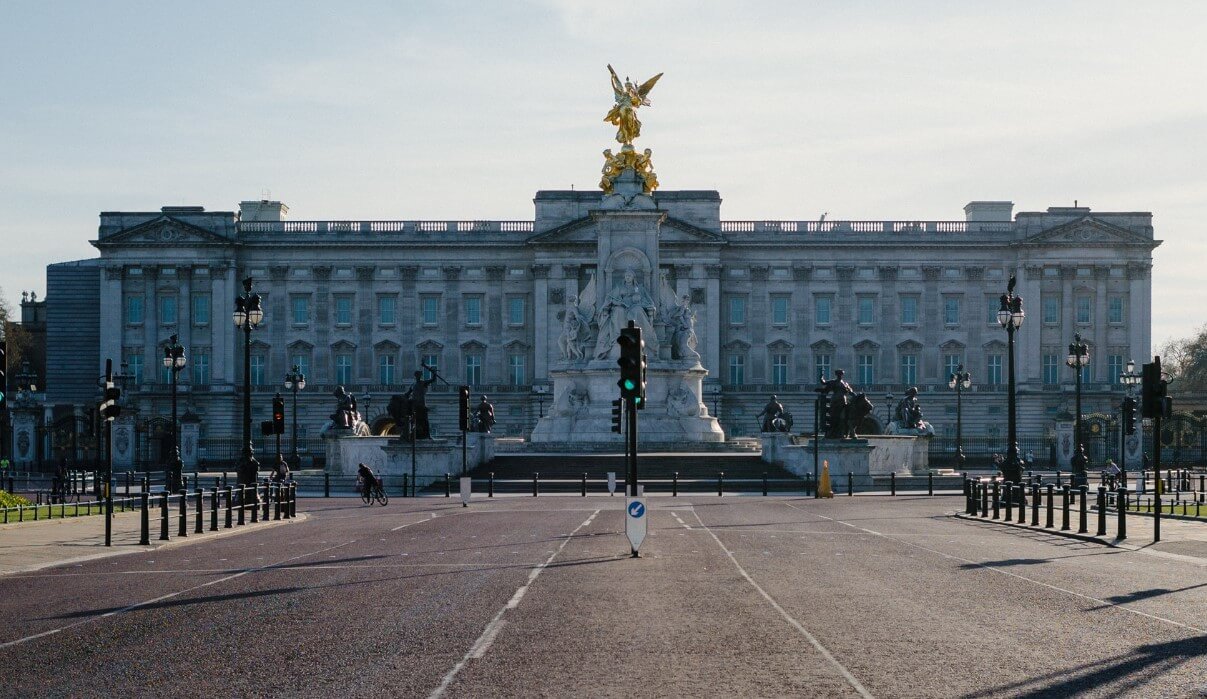 Take time when in London to look after the little kids' interests too.
Here is a list of some of our favourites:
Madame Tussauds – of course! This is one of the biggest hitting attractions in London for all the family.
The museums – whether your little one is into science or history, there is plenty from which to choose. Check out the Natural History Museum, the Transport Museum or the Science Museum. All are particularly good on a rainy day.
Fans of Harry Potter will love the Harry Potter experience at Warner Brothers, but there is also Shrek's Adventure too.
Go up High- what kid won't love the London Eye or a visit to the Shard?
For lunch in July you have plenty of choice, from picnics to burger bars. But for a special occasion why not try a cruise down the River Thames?
Romantic Places Every Couple Should Visit in London in July
A few places exist in this bustling and huge city for romance! From a romantic dinner cruise to a private pod with champagne on the London Eye, you will have no excuse for not organising something special.
A romantic stroll is also popular – check out the rose gardens in Hyde Park or Regent's Park for example. Or a show – from a romantic play to a burlesque show – whatever your other half will enjoy!
Best Food to Try in London in Summer
The pub or beer garden should be your first stop in the summer months in London. Try the White Swan in Richmond – which boasts an 18th century pub with gorgeous river surroundings.
Here you can try local favourites – such as scotch eggs – with a modern twist. The Birds in East London is known for its vegan pub grub, or the Victoria in Mile End is the place to hit if you are wanting seafood.
The Most Comfortable London Hotels Fully Prepared For Hot Weather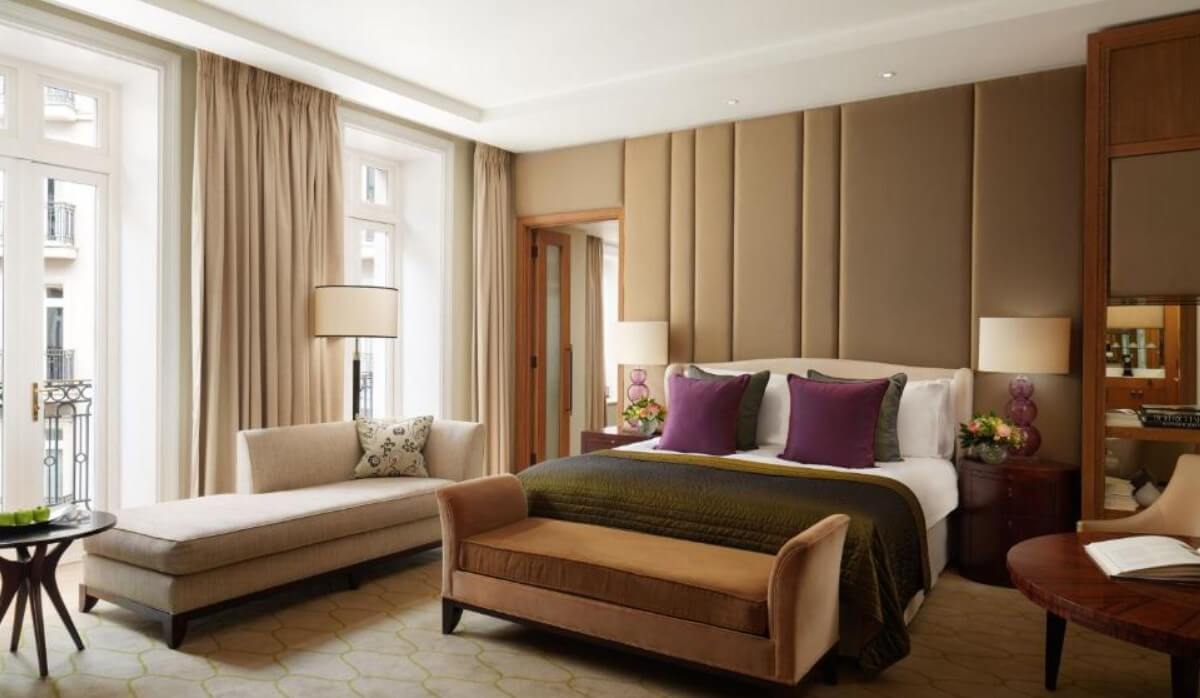 Since the weather is often "meh" at best in the UK, some hotels may not be geared up for really hot summer weather as you may expect in the US or mainland Europe for example. Be sure to look for rooms with air conditioning. Even better – you may be able to find one with a balcony!
The Corinthia London
At the top end of the scale – and we are talking over €3000 a night – is this stunning hotel. With an amazing skyline view from the roof terrace, a huge spa including pool and gorgeous balcony rooms it is an amazing experience. You just need an amazing bank balance too.
London Marriott Hotel Regents Park
If you have a bit of a more modest budget then don't worry. Those hot July days can be washed away in the pool at the Marriott at Regent's park. A deluxe room with a balcony is just under €200.
Chelsea Harbour Hotel
Another great summer hotel with a pool and balcony suites, the Chelsea Harbour Hotel offers rooms at just over €200. There are also beautiful marina views to boot.
Frequently Asked Questions about London in July
Here is a list of the top questions about London in July that you may want to read.
How to dress for London weather in July?
Wear light clothing that can be layered up or down depending on the weather. Floaty summer dresses and shorts, Tshirts and shirts will be fine. Make sure to bring an umbrella just in case.
How hot does it get in London in July?
Expect temperatures to reach the mid twenties on average throughout July. But you may get lucky (or unlucky depending on how you see it) and see temperatures reaching 30 degrees celsius.
Does it rain a lot in London in July?
Expect 8 days of the month to have what can be determined as "rainy days" . But still that's pretty good odds for the UK!
What season is it in London in July?
Well it is summer of course! The summer weather in London is great!
Is London Busy in the summertime?
Yes it is. It is the school holidays and high season. If you would rather less crowds then perhaps think to visit in the shoulder months such as May or October.
London in July is fabulous. The summer weather in London is better than during the rest of the year for sure. From outdoor pubs to walks along the River Thames, it is an all out great time to explore the city. If you have decided to experience the London summer weather then get on board and check out some of the city passes that can be used to explore.